Super strongman Kyle Jones on his double secret weapon,Cryo and NanoVi
(L)Kyle Jones supercharges his recovery with the NanoVi" after Cryotherapy
(R)He is grateful to Charles and Lesa Smith for offering the NanoVi" at Chill Zone Cryo
First, a little background, Kyle is both a PGA golf professional and a competing strongman He recovers at Chill Zone Cryo in Cincinnati where Charles and Lesa Smith take great care of him (as they do team members of the Cincinnati Bengals and others seeking elite recovery expertly overseen) ChillZone added NanoVi Exo devices so they could offer an even bigger recovery boost to their clients. Thus, the relationship between Kyle Jones and NanoVi was born.
Everybody asks what's your secret and I tell them Chill Zone Cryo, then I tell them you know what the best thing is? It's a new machine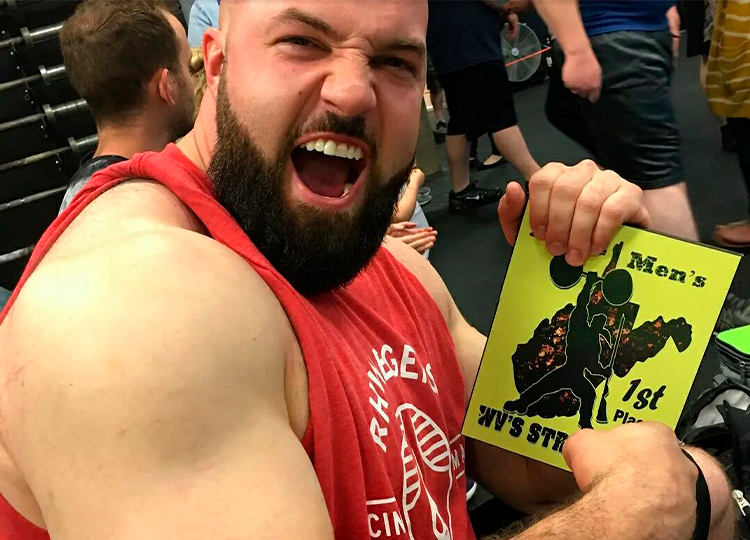 Kyle Jones, pumped tor winning 1st place at the West Virginia Strongman competition.
Competing as a Strongman while also teaching and playing golf is an unusual combination. The two sports require different strength, agility and mental focus. Each sport is demanding in its own way, especially when performed at a high level. The finesse of a golfer and the sheer power of a Strongman are not often found in a single athlete. Kyle flexes different parts of the brain, and different muscles for
each sport, pushes himself, and always has a big need for recovery. He gives Chill Zone Cryo no small measure of credit for introducing him to the NanoVi which combines perfectly with Cryo for maximum recovery.
"NanoVi just repairs you from a whole recovery standpoint. Sleep, strength, energy, focus, even the digestive system factors in. I feel it Man, I mean I crush it in the gym now."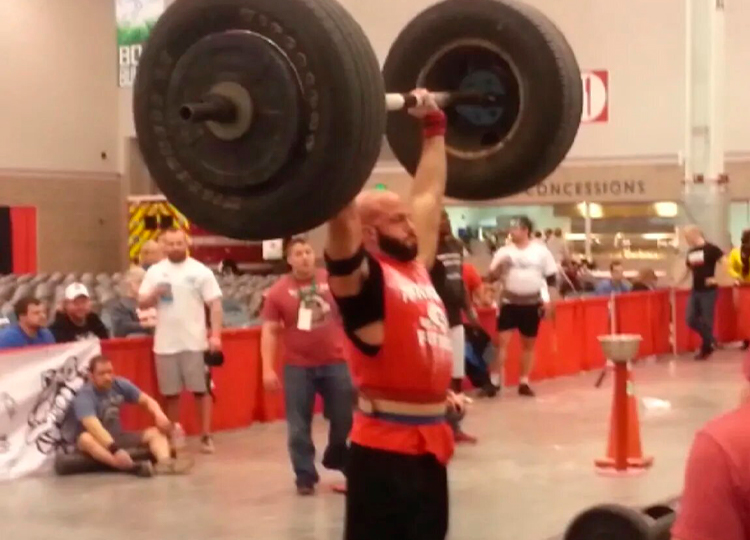 Kyle executing an overhead press with ease.
For competitive athletes, a big benefit of expediting recovery is that they can train harder and perform better. Kyle has a few things to say about training and performance:
"Now that | am using the NanoVi, I have noticed a difference with my confidence and my drive, my power. The biggest thing overall is that I am just very relentless now. It's like a different gear in my training."
"The NanoVi makes you bigger, stronger, faster and it provides an edge over everybody else because I know for a fact that other people I compete against are not using the NanoVi."
Although there is no doubt Kyle is tough on competitors, interacting with him could not be more enjoyable. He has great verbal stamina (as well as the ability to pull trucks). What follows is a wonderfully dynamic interview with Kyle done just after he won the West Virginia Strongman competition. Kyle will be competing at the Beast of Chicago in August. Of course, the Chill Zone Cryo family and everyone at Eng3 will be cheering for him.
Interview with Strongman / golfer, Kyle Jones:
Kyle Jones: Initially, I was doing powerlifting but then I switched to competing as a strongman. In powerlifting you just do one rep and you are done. As a strongman, you lift this log up "X" amount of times and you have 60(ish) seconds to get as many reps in as possible. It's a lot faster, and there are many more guys in each weight division. I just wanted in on all that. I kept competing and competing. Just recently, I went up to West Virginia and won that Strongman competition… some people got injured and backed out. They don't have the NanoVi and Cryo and everything that I do.
Training for the Beast of Chicago Strongman competition.
What is your training regime?
Kyle Jones: Everybody asks what's your secret and I tell them Chill Zone Cryo, then I tell them you know what the best thing is? Its a new machine they have and it is called NanoVi. It takes 15-20 minutes of your time per day, that's it.
I do Cryo at least four days a week after I train, sometimes five. When Chill Zone Cryo brought in the NanovVi, I added it to my training regime. I'm training for both golf and Strongman, a hilarious combination. I am always going from NanoVI to cryosauna, and then I walk right to the gym and then I get going. Chill Zone will stay open late just to make sure I get that perfect combination.
When you started using the NanoVi, did you notice anything?
Kyle Jones: When people ask me "Man, what is the NanoVi like? What are the benefits?" I tell them if you want to get bigger, stronger, and faster, this is what you need to do. I do it religiously Monday through Saturday. Recovery is so important. With my work schedule, it's very hectic. I'm running a golf course and teaching golf, so I work out late in the day.
Yeah, how much you use the NanoVí depends on the amount of repair you need. Everybody is different and people, especially athletes,
sense what they need.
Kyle Jones: Recovery, that's the second biggest thing. The biggest thing I realized, was the push and the drive I now have because of the NanoVi. When I am lifting pretty heavy, say for example, a 685-pound deadlift for reps, I have to do that as many times as I can for 60 seconds. If I just did it once, no big deal, but I have to do it many times as possible to potentially get that first place win. Now that I am using the NanoVi, I have noticed a difference with my confidence, drive, and overall raw power. The biggest takeaway is that I am very relentless now. It's like a different gear in my training. I have noticed a huge change in my breathing patterns as well. I feel more stable, secure and most importantly, controlled.
Deadlifting tires in competition. The tires can weigh up to 1100 Ibs.
I know what you mean, not just that you are more focused– it's both your attitude and your physical state at once.
Kyle Jones: Yes, the improvement was mental too. Initially, I had my skepticism. But boy, was I wrong!! It's a definite strength improvement and a feeling of a fresh burst of energy. It's so hard to train for these competitions. The NanoVi really works and has me feeling so much better.
Our golf course is built on a floodplain and we had a nasty flood in the middle of February, lasting almost 45 days. I was working with a maintenance crew and we were out there with waders on trying to get the golf course playable. All this extra labor drove me to continue utilizing Chill Zone Cryo services—Cryo Sauna, NanoVi, etc. I was tired, but after I left Chill Zone, I just had that extra edge, strength and
endurance. I had a better attitude and everything was rolling in the right direction. At the beginning of my training cycle, I didn't feel like I was going to be able to compete at my best, but after about two weeks of training with the NanoVi, I could really feel it kick in. My appetite grew and my digestive system improved. In the past, I used to have really bad heartburn. Now, it seems to have gone away for me! As a fun side job, I do late night security at a brewery here in Cincinnati. I struggle going to bed sometimes with a feeling that I am still wide awake even when | am lying down. I have always been that way even when I don't train. NanoVi has totally changed and improved my sleep pattern. NanoVi repairs your body from a whole recovery standpoint. Sleep, strength, energy, focus, even the digestive system issues are main factors I have noticed most.
So fast forward to two weeks ago at the West Virginia State Competition, we had seven events (each event consisting of the highest number of reps). I really like to compete and challenge myself against bigger, stronger guys. They don't typically have the cardio and endurance, which are my biggest assets. When I go into these competitions I know I can do this for 60 seconds and do this as hard as I can and not tire out. That's what happened! It was back to back competition, we hardly had any rest period and that's when I felt the strongest. I felt so good that day and never once felt out of breath. Long story short, it came to the seventh (last) event for me to sweep the first place win. It was a timed event to see who could lift five atlas stones (starting at 220 Ibs. to 352 Ibs.) onto the platform the fastest and I won that competition by 15 seconds over all the other competitors.
Wow, that's thrilling even to hear about. Did you feel like there was a difference in terms of your soreness or anything else after you really exerted yourself?
Kyle Jones: Yes, recovery was very important; that's my biggest thing. When | put my body to the task, as you know, I still want to be able to function in golf and everything. The next day I was a little sore, but it was my wife's birthday that weekend. We went caving that next day. I was pretty beat up after caving 7 hours, 300 feet down in the ground, but I had fun. It was a perfect birthday gift for her. NanoVi, I think played a big role and really kept my soreness at a minimum.
My golf game has improved as well! When I walk 18 holes I am a little tired. Training and picking up cars is way different than carrying 30 pounds of clubs for 4 and a half to 5 hours. I'll tell you what though, after a few weeks of the NanoVi, I played like 9 holes and I just felt incredible.
Well, we are wishing you a ton of luck with everything in the future, golfing, strongman competitions, your family…
Kyle Jones: Thank you. I tell everybody… "the NanoVi makes you internally stronger and faster. It gives you the edge over everybody else because I know for a fact that other people I compete against are not using the NanoVI."
So, I am guessing you wouldn't tell them about your secret weapon?
Kyle Jones: No, no, I would love to tell them about the NanoVi and how great the staff is at Chill Zone Cryo….but not until after my competition! HA!
Kyle, thank you. You are so full of personality and incredibly strong. How exciting to have had a chance to talk to you and that you shared these photos of you in action.
Look out for Kyle at the upcoming Beast of Chicago competition in August.

Original Story From eng3.